HOW PRODUCT MINING WORKS
Data mining for success with complex product diversity.
Able to act in any situation
In a volatile world, companies have to deal with more and more global crises: after the crisis is before the crisis.

The digitized solution makes it possible to remain capable of action, to preventively safeguard against emerging threats, and to eliminate internal vulnerabilities in the portfolio and value stream in order to provide fewer points of attack for future threats.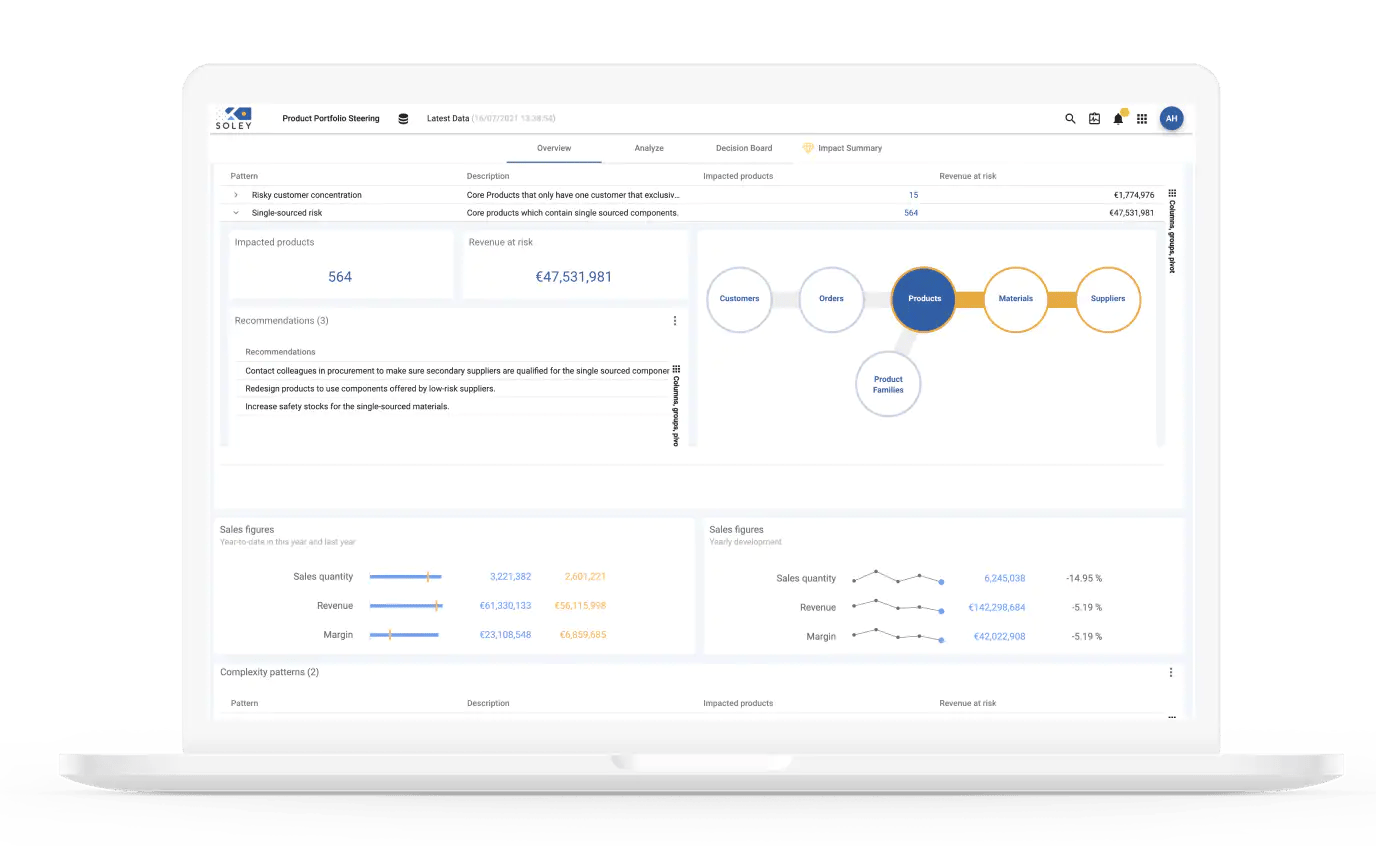 Digitized Business Transformation
Product Mining brings data mining into the world of product-centric decisions and combines data analysis with decision intelligence in the environment of complex product diversity. The goal of product mining is to transform complex product data into sustainable business impact in order to increase growth, resilience, innovation, sustainability and profitability of a company.
With product mining, organizations gain comprehensive transparency about all dependencies in the entire value chain. This provides companies with an overview of potentials, dependencies and risks within the product portfolio and supports them in making better decisions faster, optimally deploying resources and sustainably strengthening their own competitiveness. Product mining helps to reduce costs, optimize products and processes in a more targeted manner, and thus drives the business transformation of future-oriented companies.
The Product Mining Platform by Soley
Products are a company's greatest lever: they generate revenue, growth and profitability, and ultimately determine corporate success or failure - because that's where the most existential challenges to a company's future viability converge: Complexity, costs, delivery bottlenecks and CO2.

That is why Soley combines various software modules and thus directly addresses the core of a company: the product. By means of comprehensive dependency analyses and impact assessments, organizations gain a comprehensive overview of potentials, dependencies and risks within their product portfolio. In this way, complex interrelationships and dependencies can be illuminated at any time and companies gain direct action-relevant insights that are a prerequisite for successful business decisions. Learn more about the product mining platform from Soley.
How Product Mining Works - Strategic Management for a New Era
Learn now how you can optimize your entrepreneurial activities in a product-centric way.
Ready for the future
No matter how business priorities are distributed across growth, resilience, innovation, sustainability or profitability: Soley's product mining platform identifies starting points, quantifies impact, and helps companies achieve sustainable business development.
Optimally deploy resources during growth phases to increase delivery performance and expand market share.
Business Impacts:
Reduce portfolio burden
Free up capacity
Define and promote preferred products
Secure core business
Remain capable of delivery
Ensure satisfied customers and sustainable growth effects with strong delivery performance and resilient core business.
Prepare well for stormy times, secure liquidity, reduce costs and secure core business.
Business Impact:
Decide quickly and well under time pressure
Capitalize on inventories through load calls and increase liquidity
Consolidate products, components and suppliers
Minimize attack surface for delivery failures
Secure core business
Prepare foundation for future success by eliminating complexity drivers and weak points in the supply chain as well as portfolio ballast in a targeted manner.
Bring innovative new products to market and identify and weed out poorly performing legacy products in the portfolio.

Business Impact:
Optimized roll-out of successor products
Relieve the burden on product management
Free up resources for faster innovation cycles
Diversification of the product range
Consistent exploitation of growth opportunities
Become an innovation leader with the right products in the portfolio and position yourself optimally for the future.
Focus on sustainable products through targeted restructuring of the product portfolio and replace unecological products without losing customers.
Business Impact:
Reduce CO2
Optimize supply chains
Easier and faster roll-out of successor products
Diversification of the product range
Exploit growth opportunities
Reduce carbon footprint through innovative new products and optimized supply chains.
Reduce costs and secure market share with strong products in core business and realize profitable market prices.
Business Impact:
Exploit hidden pricing potential
Make synergies in the product portfolio visible
Eliminate legacy products
Identify poor sales (overhead cost drivers)
Migrate relevant customers to more profitable new products
Less legacy product maintenance means shorter time-to-market and innovative products.