PRODUCT PORTFOLIO STEERING
Optimize your product portfolio with the leading SaaS solution.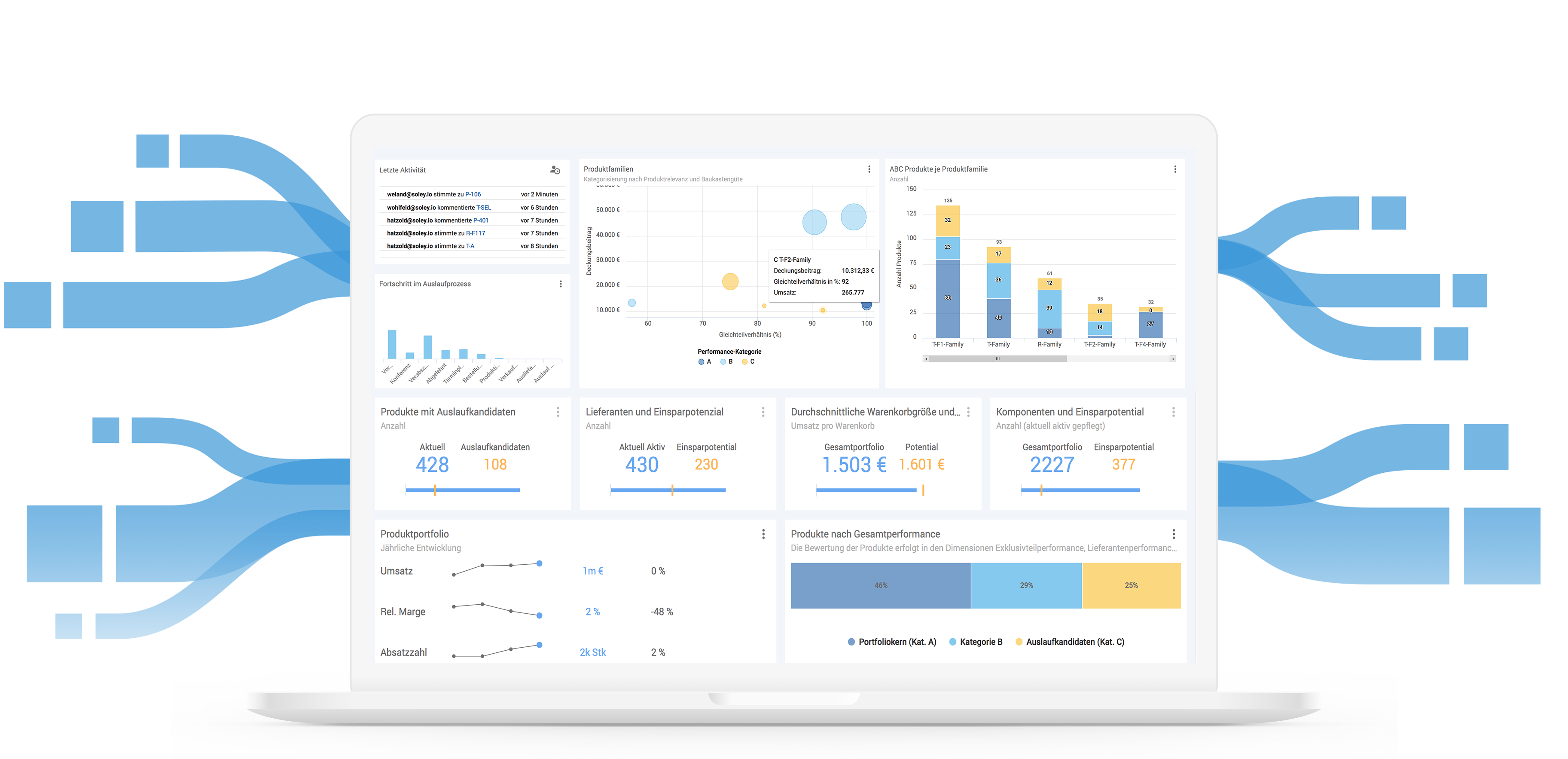 It's time to optimize complex product portfolios in a digitized way.
Soley accompanies you from the product portfolio analysis to the excellent product portfolio. Reduce complexity, eliminate portfolio ballast and strengthen your core business.
leaner product portfolio
without loss of revenue
Higher resilience to supply chain disruption
Inspire your customers with an excellent product portfolio.
Meeting customer requirements at a high level comes at a price: complexity.

Complex dependencies, such as common parts or shopping cart relationships, mean that expert knowledge is required for portfolio decisions. We have digitized this knowledge and integrated it into a scalable, collaborative software solution. This allows you to quickly and precisely optimize your entire product portfolio. Many well-known industrial companies already rely on our software solution. When do you start?
For a healthy, powerful product portfolio:
Soley Product Portfolio Steering
PRODUCT PORTFOLIO WORKFLOWS

Creating transparency: Potentials, risks and hot spots at a glance
Soley classifies your entire product portfolio into core business, ancillary business and portfolio ballast. Complexity Patterns reveal hidden potentials and risks in the portfolio.

This is where the systematic processing of strengths and weaknesses of your product portfolio begins.
Consistently eliminate portfolio ballast
Soley calculates the cost-benefit balance of all products based on sales development, exclusive parts, suppliers and shopping cart relationships.

With Soley, you identify portfolio ballast and accelerate product phase-out. Target conflicts between product management and sales are resolved collaboratively and fact-based and documented transparently.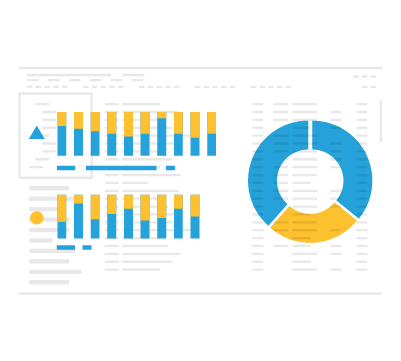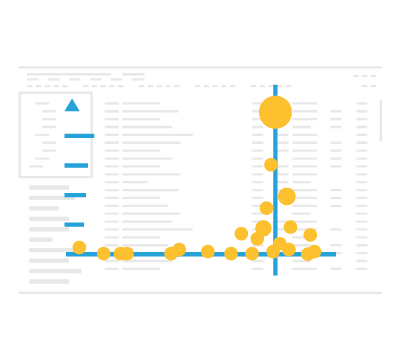 Portfolio structuring - preferred products
Soley extends the typical ABC-XYZ analysis and additionally examines internal platform synergies. This results in a clear division into preferred products, extended products and special products, each with a different price point and delivery availability.

Preferred products with high delivery availability help to survive in volatile growth markets and enable high economies of scale in purchasing and manufacturing.
Make-or-Buy Decisions
Large product variety means continuously re-evaluating make-or-buy decisions in order to use scarce internal resources in the most value-adding way possible and to strengthen core competencies within the company.

With Soley, you stay in control of high-revenue products with high relevance for your enterprise and recognize which products are better procured externally to avoid unnecessary complexity.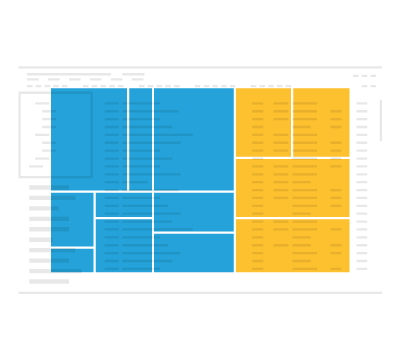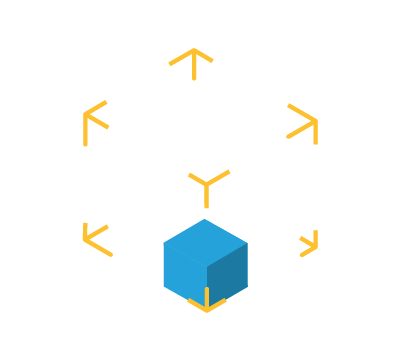 Effectively prevent supply bottlenecks
Soley screens the entire product portfolio and examines sales volatility as well as the number of exclusive parts and exclusive suppliers per product. This results in a risk assessment for all products.

In this way, you can easily ensure that particularly sales-relevant products remain available in a targeted manner with multi-source approaches and can identify at any time where expensive warehousing is worthwhile in the long term.
Soley offers a wide range of established tools and analysis functions. These three GAME CHANGERS make all the difference: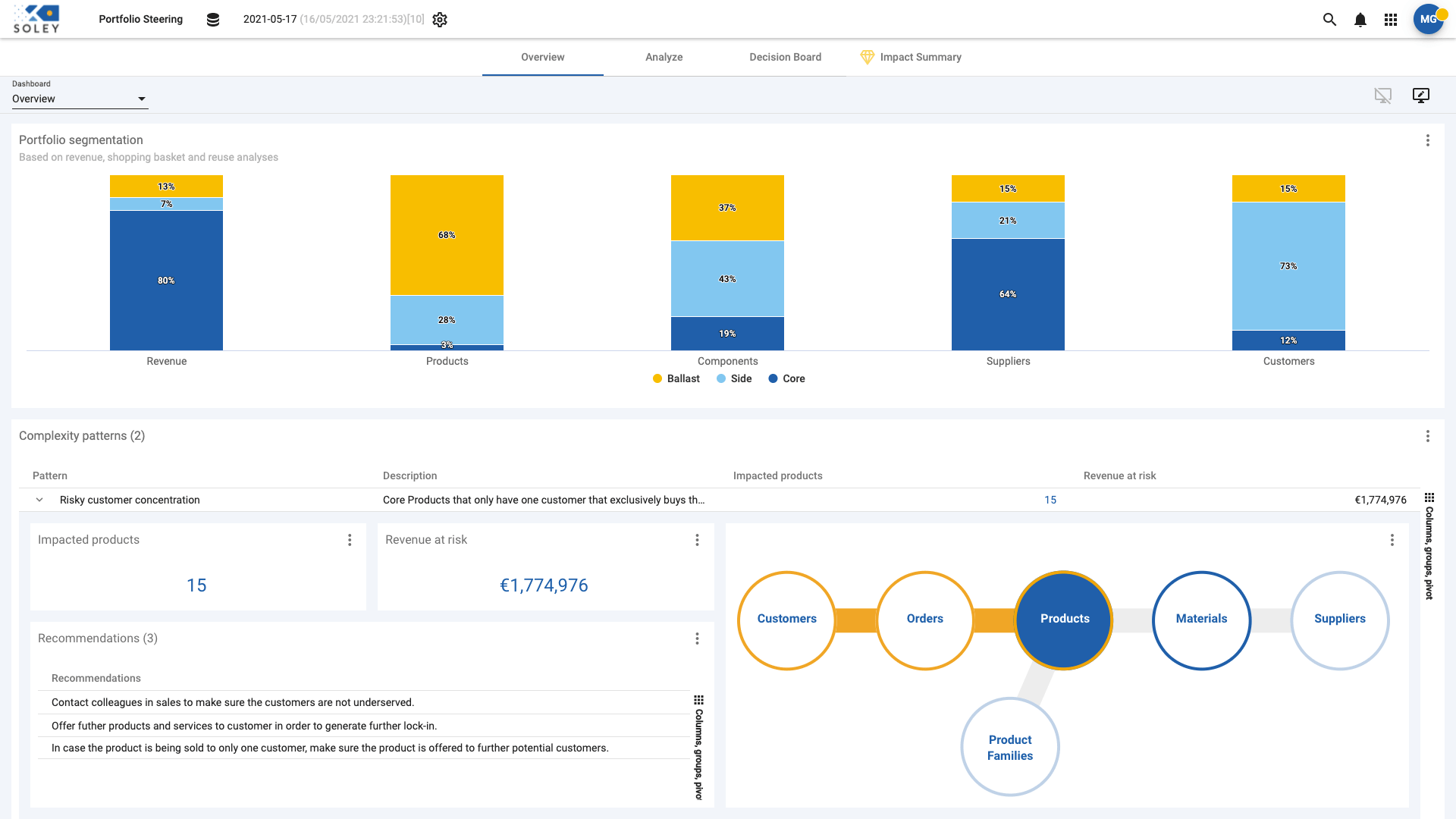 Discover hidden potentials and risks
Soley finds typical complexity patterns in your product portfolio and automatically quantifies the associated potential and gives actionable advice. On this basis, you prioritize strategic measures for portfolio optimization and can consistently tackle the worthwhile topics.
Track effects seamlessly
Understand, analyze and evaluate supply chain impacts on your product portfolio and effects from your product portfolio on the value chain. Impact analyses in different scenarios help you find the best answer to each challenge.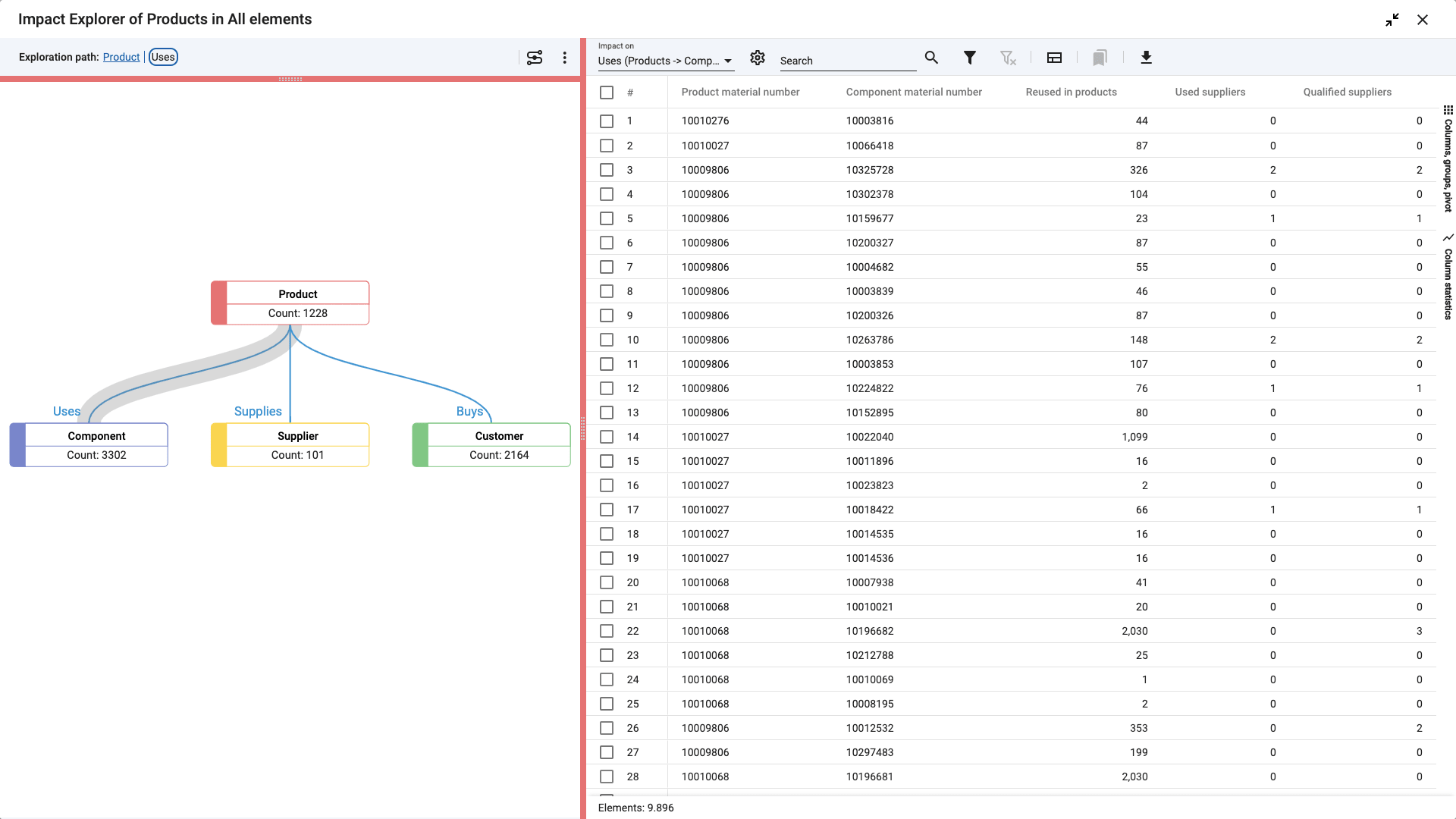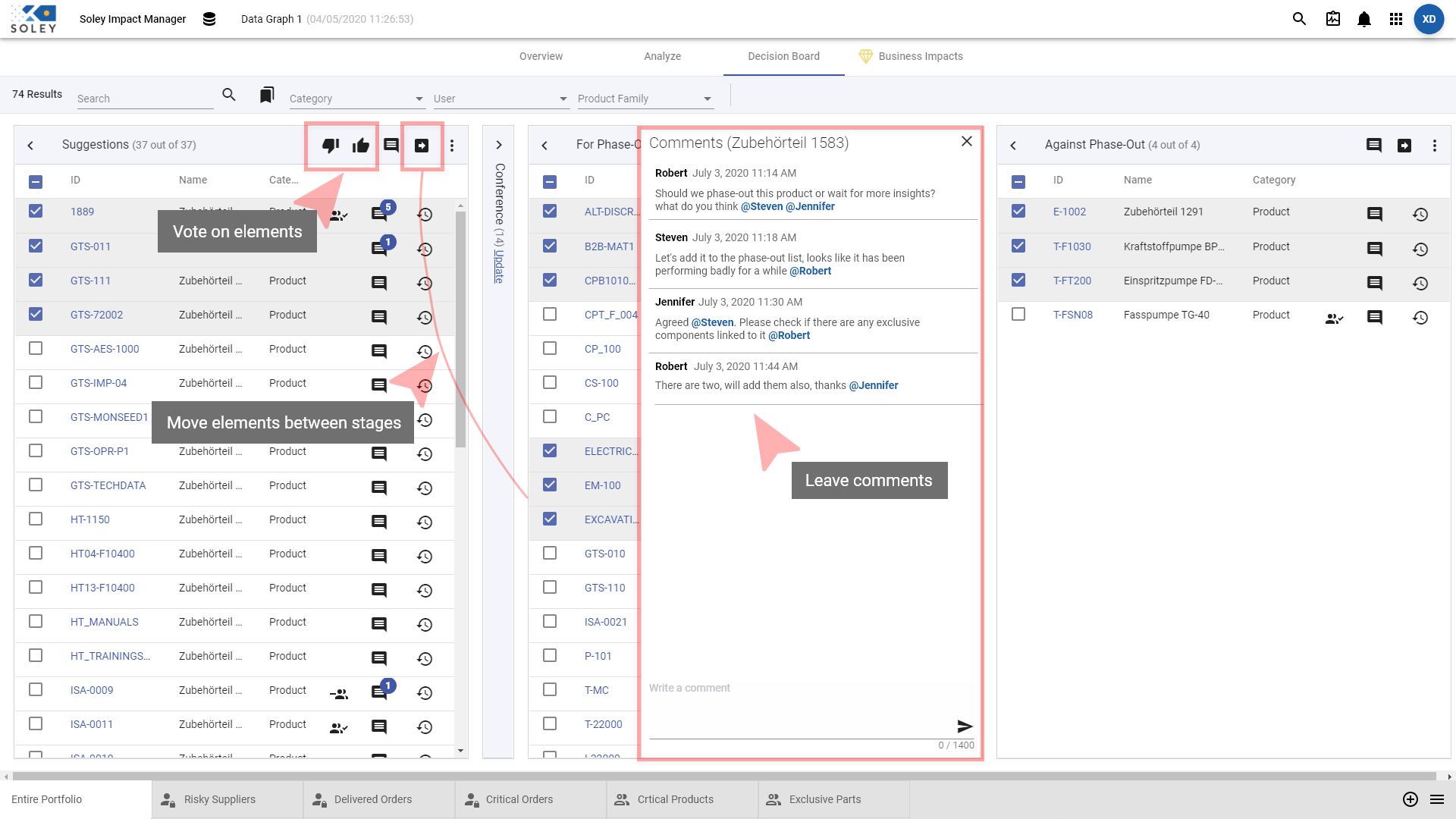 Decide in a team
Make decisions in a structured, multi-stage process in collaboration with all stakeholders involved.
The elements of the value chain in the decision-making body go through a process of commenting, voting, and transitioning to the decision-making stages. This allows you, as a team, to stay on top of the decision-making process.
Making product portfolio decisions in a state-of-the-art manner
n global competition, sound, strategic portfolio decisions are your key success factor. With Soley, you decide with an overview: quickly and scalably. Eliminate inefficiencies in your product portfolio and delight customers with cost-efficient, innovative and market-driven product diversity.